The Dalai Lama and Thongs
His Holiness and the, arguably, lowliest (but still comfy, alright).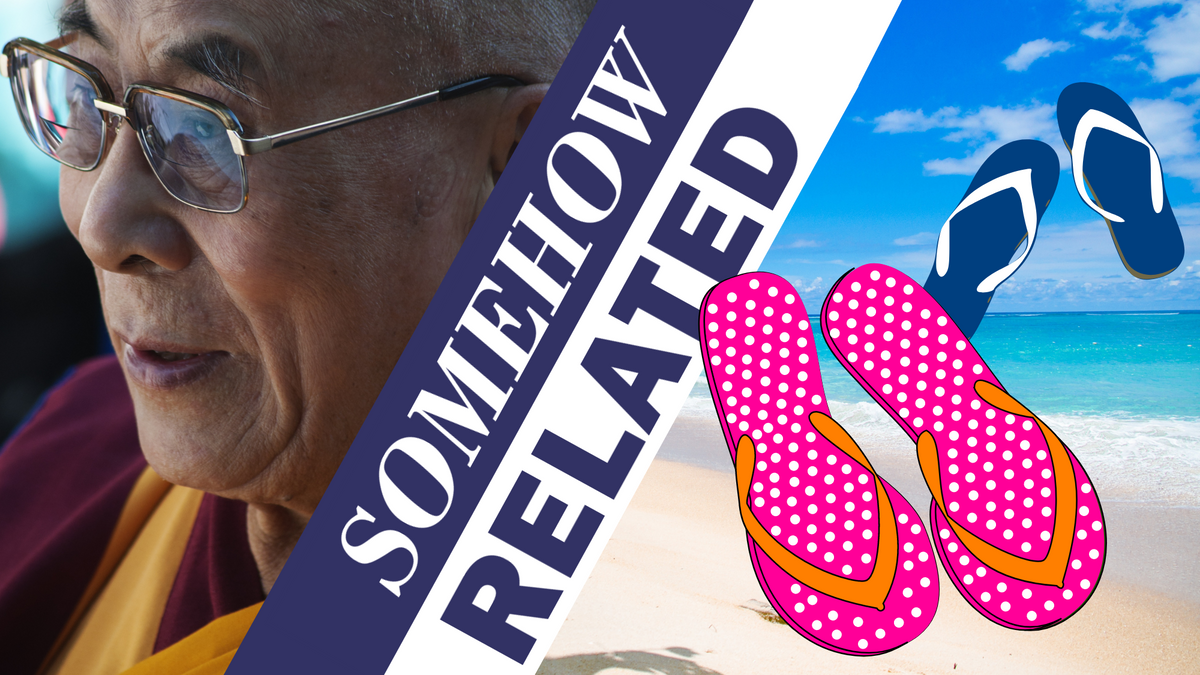 The 14th Dalai Lama, who's spiritual name is Jetsun Jamphel Ngawang Lobsang Yeshe Tenzin Gyatso, also known as Tenzin Gyatso, also known as Gyalwa Rinpoche to the Tibetan people.
And thongs. Also known as jandles, also known as flip-flips. Also known as not allowed in the main bar.
🙏
Subscribe to Somehow Related on Apple Podcasts or wherever you like to listen.
Can you guess the countries from the names?
Jandles
New Zealand (short for Japanese sandals)
Zories
United States - East Coast
Thongs
Australia - one thong, two thongs. Confusing in other countries.
Thinking Music
Dave Hughes with the Dalai Lama for The Project.
Back when Charlie Pickering was the host.
Classier than Karl Stefanivic's attempt to share a joke.
Humour is universal but it doesn't translate so well
The Answer
The Dalai Lama's choice of footare has always been thongs.
He gets around even the most exclusive places in the casual foot-buffers.
From the New York Times 2006, Tibetan artist Losang Gyatso painted the Dalai Lama's foot in thongs, regarding the Tibetan leader as 'a world emissary of healing'.
"His Holiness is very casual and is often seen wearing sandals and flip-flops."
Gyatso's work "Ocean of Wisdom (2005) depicts his Holiness's cartoonishly rendered foot shod in a bright blue flip-flop."
Gyatso "sought to represent the Dalai Lama as both a physical and mystical being, a spiritually and politically unifying force.
"The traditional brocade and leather Tibetan boots that covered the Dalai Lama's feet are substituted by the flip flops that are so common in the lowlands of India where we [Tibetans] have become refugees for the last four decades," says Gyatso, who now lives in Colorado.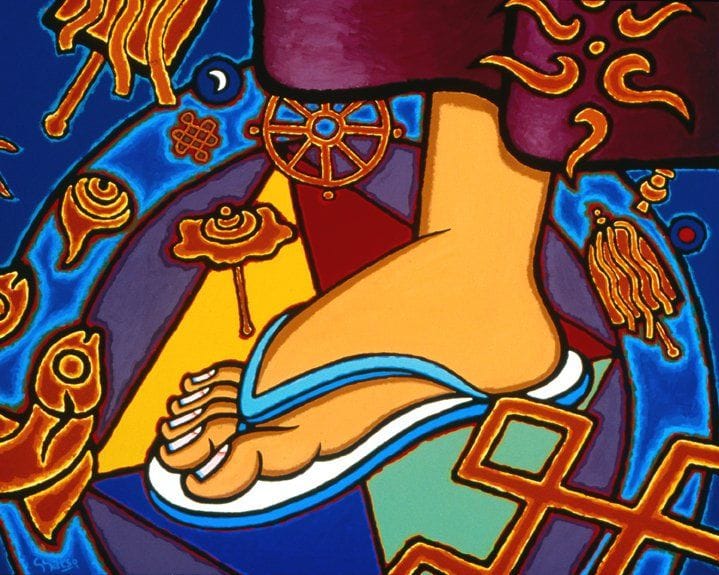 Enjoying the podcast? Show you support!
Since 2017 we've been producing fantastic and free podcasts. We've minimised any advertising to make the listening experience as enjoyable as possible.
Show your support for this and other Nearly Media shows in any of the following ways.
Free
Subscribed to nearly.com.au - there's a blue button that says "Subscribe" around the website. Click it and follow the instructions.
Share the show or this article on your social media account. Easy to do! Let your friends and family know what they're missing out on.